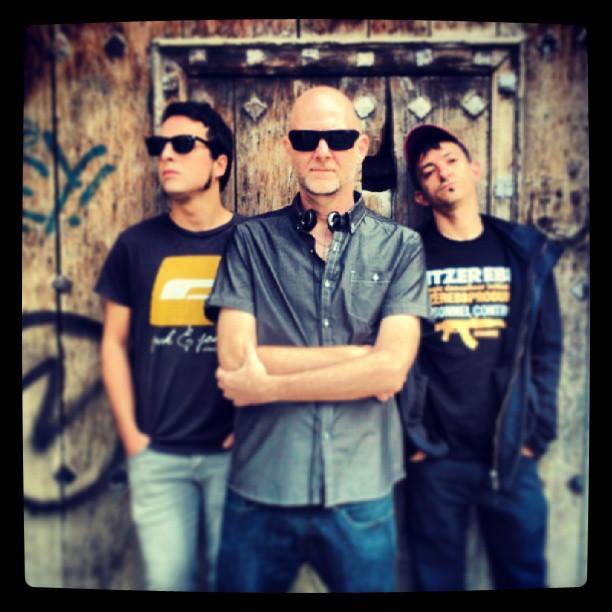 Biography
---
Chit Chat Sex Band is an unconventional live electronic act based in Pamplona. The group's members are Iñaki Kreator (composition, production, live sequencing) Sampler (lyrics and vocals, electronics, f/x) and Pablo Gimeno Gurpegui (keyboards, guitars, and drums.) Their original sound, indicative of the international make-up of the band, is a potent hybrid of European and American aesthetics with echoes of electro-clash, e.b.m.,old-school, punk, and soul.
The band was founded by Iñaki Kreator a.k.a.Iñaki Calvo, a beloved deejay, producer and performer who has been working professionally and helping to shape the underground electronic scene for more than twenty years. In 2004 mutual friends introduced Iñaki to Sampler, a.k.a.Samuel Fitch, a strikingly emotive singer/songwriter from the U.S.A., and together they began to write and perform personal songs that aim to work on a dance floor. They have collaborated more or less continuously, co-writing and performing dozens of tracks that span sensual, evocative electronica and soulful electro-rock to darker, harder strains of e.b.m. In January of 2013 Sam and Iñaki were joined by the experienced, classically-trained, incredibly talented stage performer Pablo Gimeno, who brings a new intensity and raises the overall level of musicianship while adding sonic depth to the band.
After a successful debut EP, War Cry, which inaugurated the indie label Müsex Industries, Chit Chat Sex Band followed up with their first full-length album, A Weapon of Mass Seduction: nine original songs which combine driving four-on-the-floor beats and broken rhythms with acid-synth textures, lush strings, throbbing basslines, evocatively-sung melodic hooks and smart lyrics. The record also features additional performance and production by the great musician and award-winning composer of cinematic scores, Mikel Salas (REC3). It was recorded and co-produced by the band, Salas, Javier Suescun and Zaragoza's Nacho Serrano (Los Niños del Brasil.) Its lead single was the title track, released as a music video directed by Cristobal Jurado for Mota Studios, Valencia.
While their sound is continually evolving with each new composition and every concert, Iñaki, Sam, and Pablo have always nurtured their own unique aesthetic as songwriters and performers by resisting trends, short-cuts, or easy categorization. Throughout several years of shows in clubs and festivals, Chit Chat Sex Band have proudly supported an independent, underground electronic scene. Their big vocal, electronic-rock songs are best appreciated when experienced live, seen as well as heard. They love the thrill of musical improvisation, preferring analog sounds sequenced on the fly, live vocals and keyboards. Whether intimate club gigs or large-scale events, their live performances have always met with a truly spectacular public reception. Some highlights of past shows include a wild night opening for Vitalic in their hometown, an unbelievable anniversary party at Metro Dance Club in Alicante, absolute triumphs in Barcelona at the chic Macarena Club and the legendary, one and only, authentically underground Moog Electronic Club, epic performances at Phonik Festival, I + D Festivals in Elgoibar and Bergara, the Elektro Oltza Festival in Arazuri, and a series of shows around Barcelona during Sònar week 2013, to name a few.
Chit Chat Sex Band have had the pleasure of collaborating with quality national and international artists like Germany's Compact Grey whose deep remix of "Reptile" (featured on Gris Musique's compilation Show Stealing Moments Vol 1) has been an online and festival hit, or the supremely cool Stendhal Syndrome, to whom theycontributed a remix for that band's fantastic EPInto This Dream Remixes. An unexpected new take on a gorgeous song, Into This Dream (Chit Chat Sex Band Remix) features Iñaki Kreator's distinctive beats along with one-take live recordings of piano by Pablo and additional vocals by Sampler that complement the lovely, desolate voice of Stendhal Syndrome's Adri. The remix project led to an unforgettable concert at the Silken Ramblas Hotel in Barcelona where they were thrilled to share the bill with Stendhal Syndrome.
Chit Chat Sex Band are playing periodically and lining up new gigs through Cathouse Booking. They are hard at work refining their live show and have begun recording all new material for their second album, whose release date will soon be determined. 
---