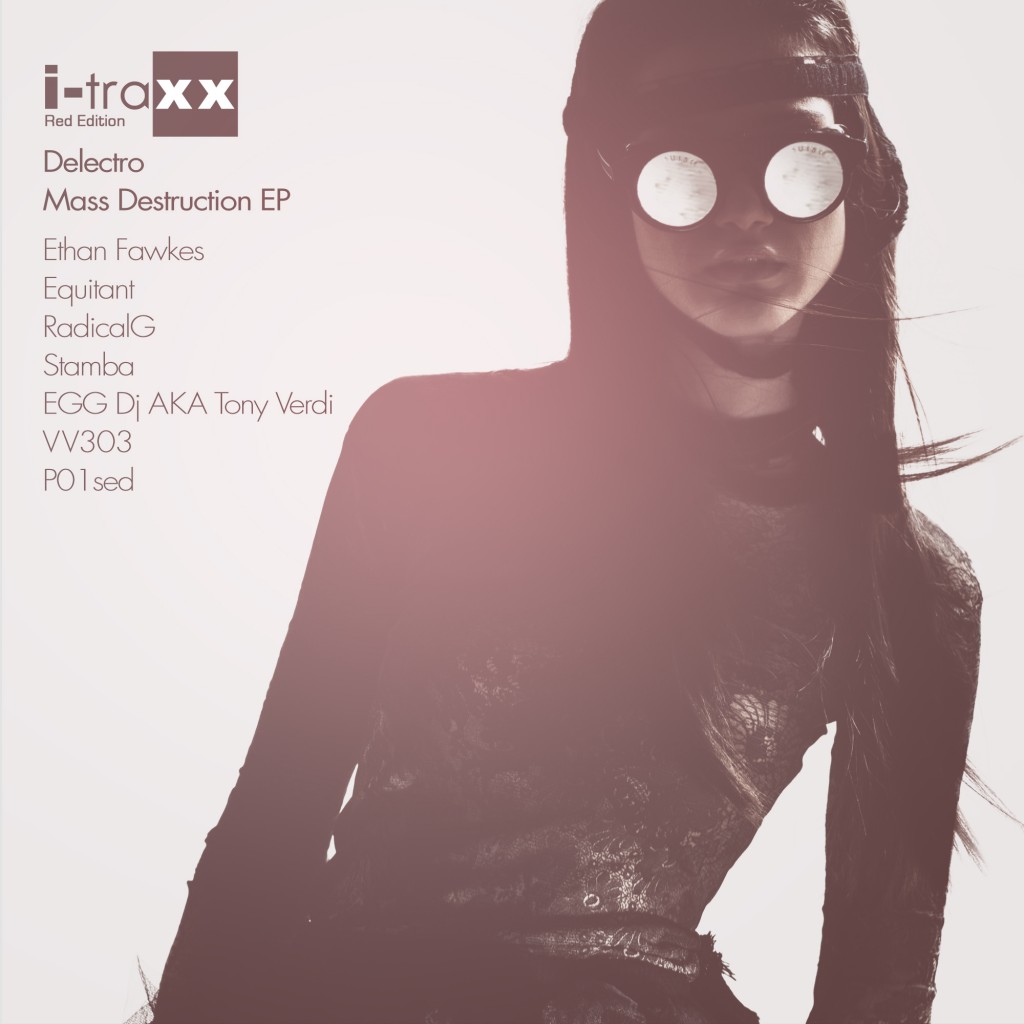 Delectro – Mass Destruction
Delectro – Mass Destruction Ep is a vital exploration into the sounds of Techno, Electro and EBM. The title track is supported by remixes from a solid group of influential artists: Ethan Fawkes (Belgium), Equitant (USA), RadicalG (Belgium), EGG dj aka Tony Verdi (Electro Generator Group) (Spain), VV303 (Belgium),  P01sed (Colombia) and Stamba (France). This long-awaited debut ep from an emerging talent, whose powerful beats and rapid-fire bass-lines echo dark electro and EBM, is a release rich with new visions for these sounds and genres.
Castellano / Español / Spanish
Delectro – Mass destruction Ep es la exploración de los sonidos del Techno, el Electro y el EBM, acompañado de las remezclas de un grupo de artistas con gran influencia como Ethan Fawkes(Belgica), Equitant(USA), RadicalG(Belgica), EGG dj aka Tony Verdi(Electro Generator Group)(España), VV303(Belgica),P01sed(Colombia) y Stamba(Francia). Dando como resultado un ep con potentes beats, rápidas líneas de bajo inspirados en el electro oscuro y el EBM, Dando como resultado en Ep rico en estos sonidos y géneros.
Mass Destruction – Original Mix: Puro estilo Techno Electro sin dejar de lado sus influencias en el EBM.
Dark Breeze – Oiginal Mix: Sonido inspirado en el Techno oscuro con pads profundos.
Mass Destruction (Ethan Fawkes Remix): Distorsión y Noise totalmente el sello de Ethan Fawkes.
Mass Destruction (Equitant Remix): Sin dejar de lado la base del tema original Equitant le añade su característico sonido oscuro y potente.
Mass Destruction (Radical G Remix): Oscuro electro profundo.
Mass Destruction (Stamba Remix): Despues de unos años de ausencia vuelve Stamba con una remezcla muy Techno.
Mass Destruction (EGG dj aka Tony Verdi Remix): Nos presenta una version muy Techno EBM. Mass Destruction (VV303Remix): Un viaje con sonidos que van desde el Trance al Techno.
Mass Destruction (P01sed Remix): remezcla electro desde (Medellín-Colombia)
More keyboard_arrow_down
Less keyboard_arrow_up
---
Purchase album keyboard_arrow_down
---