VV303 – From The Dark Vol. III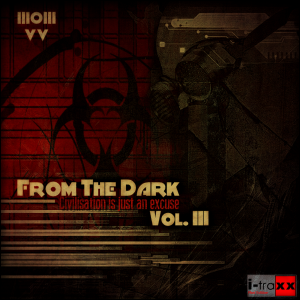 Label: I-Traxx Red Edition
Release date: 22/05/2014
Catalog number: ITR003
"Started in 2007 with the from the dark concept, always with 4 song of my best friend T666
after he committed suicide before the release of one of the albums i promised my self to continue that concept ,he was a tortured person and we made our music out of experience of life it self.
songs about love and fluffy clouds are made every day but thats not real life.
This "from the dark" is a concept album raw and honest and released on a label that stole my heart , its a big thing for me wish my friend could enjoy that moment with me now.
After the big succes of the previous ones i am still more proud of this one,
sounds and mastering technics have changed in time and could go whole the way now.
I hope the people can follow the story line in soundwave form with a minimum of words its the mood that gives the hits." VV303
"Musica delenit bestiam feram!"
From The Dark III – Track Bio
01 "Cataclysm I" Is the intro al that has to come . A dark and emotional score.
02 "Antibiotics" Using only the sounds of the micro korg and an external drum  kit . The melody was an impulsive simple chord I played to keep it pure and hypnotising.
03 "To The Darkness" is also a dark clubber with a 90's trance feeling but in a harsh hellectro construction.
04 "Torture Garden" is more EBM based. It rides on the basssynth and has an agressive drive to it.
05 "Ninth plague" is a dark ambient track with an 80's soundscore feeling.
06 "Enemy" is a slower syntpop Ebm based construction with layered synth lines. I added some 909 percussions and some fast hats give it an early 90 feeling.
07 "Cellar Boy" is a story of a boy who's locked up in a dark place. I added some heavy breathing to the track to create an atmosphere of hopelessness and fear. For me this ia a very intense & emotional track .
08 "The Message" is based around the novation synth . Some fat energetic synt lines that keep building up and changing. One just for the dancefloor.
09 "Set the stage" is a combination of distrorted drum&bass and layered field recodings with a deep drone synth
10 "Dominate" is a ritual syphonic industrial track The percussions are layered with field recodings from random hardware & metal objects.
11 "Disease Humanity" is a hybrid dark electro track. Raw and harsh created for the dancefloor.
12 "Face Collector" is a harsh hellectro track with distorted percussion & vocals. After watching the news one day I came up with the lyrics.
13 The Message (Ethan Fawkes Remix)" Very proud to have Ethan Fawkes on the Album, It's a typical Fawkes remix. Just the way I like it. It's dark techno-ish and very danceable without losing the original concept.